You are here
Field Trip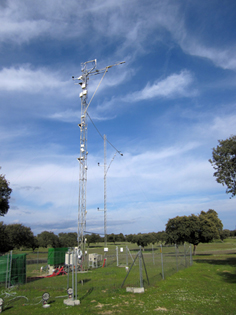 We will visit the Fluxnet site located in Las Majadas del Tietar, Province of Cáceres, where the Centro de Estudios Ambientales del Mediterráneo (CEAM) is operating a flux tower since May 2003. The site is a dehesa (Holm oak wooded grassland or savanna) a typical heterogeneous mediterranean ecosystem. Natural vegetation type corresponds to the Pyro bourgeaneae – Querceto rotundifoliae quercetum mesomediterranean series (Rivas-Martínez, 1987), which has been transformed into a wooded (Holm oak) grassland  (herbaceous species) containing some shrub species (Cistus ladanifer, Lavandula pedunculata and Ulex europaeus). Flux tower has more than 200 sensors that continuously sample micrometeorological and optical data; including a recently installed AMSPEC II system (Hilker et al. 2010).
We will also visit the Monfragüe National Park, the fourtheenth national Park in the country and recognised by UNESCO as a Biosohere reserve since 2003. Natural values include geological, geomorphological and biological diversity and richness, partly result of traditional low-intensive farming and also hunting. Habitats in the park include extensive dense scrub, small oak woodlands, and numerous cliffs and rock faces where different species of birds, one of the atractions of the park. The Monfragüe National Park has the largest colony of Cinereous vultures (Black Vultures) in the world (more than 200 couples) and the highest concentration of the rare Spanish Imperial Eagles in the world (more than 10 couples). In all, 3 species of vulture breed here along with 5 species of eagle, 3 species of kite, and 2 species of harrier. A large number of waterfowl species are found in and around the reservoir and the rivers feeding it. The park is also home to the rare Iberian lynx, red, roe and fallow deer, wild cats, wild boar and otters.
Please, be aware that weather at this time of the year may be quite sunny, warm and dry; thus make sure that you bring a hat / cap, sunscreen, sunglasses and some water.